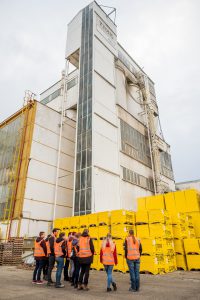 On December 2, 2019, employees of the MBM Research Group of the AdMaS Center organized an excursion for students of the M study program at the Faculty of Civil Engineering of the Brno University of Technology to an autoclaved aerated concrete production plant.
Students thus had a unique opportunity to see all stages of production from the preparation of raw materials, through the creation of building elements, to their expedition. A part of the excursion was also a lecture with a presentation of the complete product offer of the producer, including variants of placing the elements in the construction.
The interconnection of theory and practice is one of the cornerstones of study at the Faculty of Civil Engineering, Brno University of Technology.