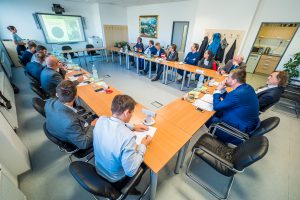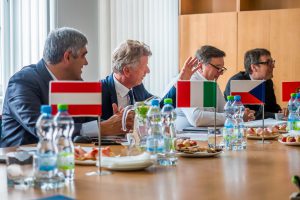 On 24 – 27 September 2019, the last International Scientific Board of the AdMaS Center was held. The scientists, led by the director, welcomed the board members who came to us from all over Europe: Dr. Andrea Giuseppe Capodaglio from the Italian University of Pavia, Prof. Dr. Ing. Harald Garrecht from the University of Stuttgart, Ass. Prof. Dr. Alfred Strauss from the University of Natural Resources and Life Sciences Vienna and Prof. Dr. Humberto Salazar Amorium Varum from Universidade do Porto.
During their stay, the professors took part in the celebrations of the 120th anniversary of the foundation of the Faculty of Civil Engineering and the evening performance Night at Karlštejn in the Brno City Theater.
Both the AdMaS Center and the Faculty held meetings with individual research groups for two days, whose representatives presented their achievements and ideas for 2019.
Towards the end of the week, the staff of the Center said goodbye to the professors and thanked them for their support, motivation and very friendly yet professional relationships.