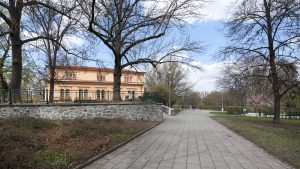 The Brno City Hall will be assisted with cases of more serious violation of the static state of buildings this year by an expert team from the Brno University of Technology. For example, it will focus on the Lužánky Leisure Center. This week, the councilor approved the free cooperation agreement between the city and the university.
The city owns a number of objects that have been damaged by statics. An example is the Lužánky Leisure Center. Here, this year's dry summer and the overall change in climatic conditions have affected the geological conditions to such an extent that the side wing of the building has found itself practically in disrepair.
What measures to take to make such objects safe again are suggested by expert team from the Faculty of Civil Engineering – AdMaS Center. The AdMaS experts even want to provide the city with the necessary expertise for free. "The Faculty of Civil Engineering will include the evaluated objects in the practical training of specialized subjects in higher grades, including the offer of topics for the final theses of the students," said Assoc. Prof. Pavel Schmid for VUT.
The output of the cooperation will be, along with the necessary effective proposals for appropriate building measures, common professional publications or contributions at professional conferences. "One of the goals of AdMaSu is to create a methodology for exploring damaged buildings. This will become an important tool not only for the staff of the property management department, but also for the housing and investment departments when commissioning construction and technical surveys. It is often very difficult to determine in advance what the survey provider is supposed to do, that is to say that the assignment contains only the necessary information and does not neglect any important action, "said Oliver Pospíšil, Deputy Mayor of Housing and Property Management.