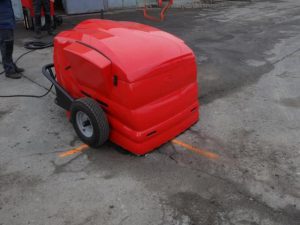 Scientists from the Academy of Sciences of the Czech Republic together with experts from the Brno University of Technology have developed a new way to repair potholes and holes in roads. The new road technology introduced by FUTTEC company is similar to a microwave oven – the device heats the mixture to heal the road and the pothole itself. It enables ideal interconnection of materials. The technology can be used in any weather.
The disadvantage of the standard repair of potholes in the roads is that they are usually repaired with the mix that is currently available to road builders. "It is mostly a cold mix, which is an aggregate mixed with an asphalt emulsion that is not well adhered to the road. Such a repair usually does not have long durability. The patch sometimes doesn't last until spring. However, when using equipment with microwave technology, the base and the supplementary material are permanently joined together, "explained asphalt surface expert Jan Kudrna from FAST VUT, who cooperated with scientists from the Academy of Sciences of the Czech Republic on the new equipment.
The development of FT3 equipment, which is used to repair roads faster and more efficiently, took several years. It is suitable for all types of asphalt pavements, including highways, airport runways and cycle paths. "The three-piece system includes a microwave that heats the asphalt material of the road to 120 ° C. The surface of the road softens and connects beautifully with the refilled mixture, which is heated to a higher temperature in another microwave oven. As a result, there are no cracks or dangerous inequalities on the road, "added Kudrna. In addition to very good repair quality, time savings are a great advantage – cracks, potholes and potholes can be repaired within one hour. Once the road has been repaired, it is possible to drive immediately after cooling down.
Unlike standard procedures, the device can also be used in winter when the temperature is below freezing. "For example, at the Dlouhé Stráně Dam, which is 1,350 meters above sea level, there are up to two hundred frost cycles in the winter season. Due to the filling and discharging of water for the hydroelectric power plant, there will be approximately five thousand holes, which we could effectively and mainly durably repair, "Kudrna explained. In addition, the device is less demanding to operate, only two people can operate it.
FT3 facilities have already been tested in Kopřivnice and the Road and Motorway Directorate of the Czech Republic would like to use the technology for motorway repairs. Now FUTTEC experts are working on a new prototype device that will be smaller and easier to handle. It should also be able to more easily direct the microwaves to the pothole to be repaired, allowing more targeted repair of the damaged roadway.