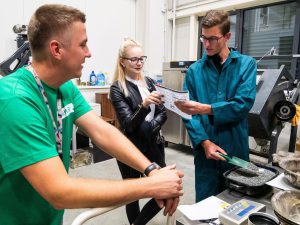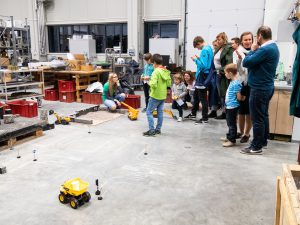 On Friday, September 27, 2019, in the evening, the gate of the AdMaS Center opened to visitors of the popular event Scientists' Night, this time on the theme of Considering the Planet.
The staff of the individual laboratories, in collaboration with students and family members, prepared several sites reflecting the current research conducted in them. They prepared a demonstration of interesting devices for the visitors, explained their use and attracted two hundred guests in the form of a competition or a practical demonstration. The most popular were, as in past years, 3D printer products, a tomograph contest, a drone simulation flight and, of course, the production of asphalt pavement and playing with Liebherr toy cars.
An electric car, bestowed from E.ON,  was also quite acclaimed and admired.
Both young and old guests gained not only new knowledge, but also many ecological souvenirs, the smallest one a favorite sweet surprise.