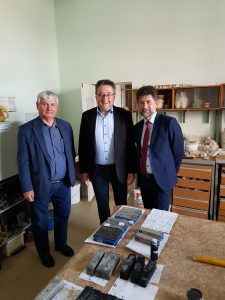 Head of Development of Advanced Building Materials Research Program, prof. Rostislav Drochytka, and Director of the AdMaS Center, dr. Zdeněk Dufek, visited the M.T.Kalašnikov State Technical University  in Izhevsk, Russia in the last week of April. The aim of the trip was to develop cooperation on the development of new electroconductive composites for wide use in the construction industry using various types of secondary raw materials in the form of admixtures into composite materials.
Furthermore, the possibility of opening an international double degree study in doctoral study programs was discussed.
The Director of the Institute of Construction and Architecture, prof. Grigory Pervushin, and Head of the Institute of Geotechnics and Building Materials, prof. Gryigory Yakovlev took part in the meeting.