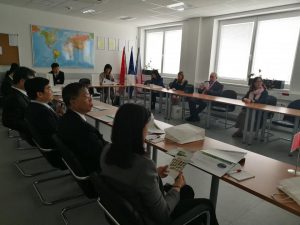 On Monday, April 16, 2018,  a 15-member delegation from the Guangdong Province of China, accompanied by three representatives of the South Moravian Region, visited the AdMaS Center.
The visitors were greeted by the Director, JUDr. Ing. Zdenek Dufek, Ph.D., and the Scientific Director of the Center, prof. Ing. Drahomir Novak, DrSc., who acquainted them with the research,essence and goals of the center.
Afterwards, the delegation took a round with Ing. Nekulova and dr. Dvorak through construction  and RP1 laboratories.
Among the significant political and business visitors was also Song Wenqi, Director of the Huawei Business Department of the Czech Republic. However, the delegation was headed by Provincial Governor, Mr. Ma Xingrui, who obtained a Masters Degree in Mechanical Engineering at Tianjin University and a Doctor of Mechanics at the Harbin Technological Institute. After studying, he worked as a lecturer and held various senior positions at the Harbin Technological Institute. He then worked in a science and technology company with a focus on aerospace industry. Subsequently, he was the director of the China National Space Agency, where he was responsible, among other things, for the implementation of the Chang'e 3 (chang-e) project. The project consisted of launching a space probe designed to explore the Moon – the probe had descended on its surface in December 2013.
Mr. Ma Xingrui, became the governor of Guangdong province in 2017. This region is the the fourth most populous province of China (but  unofficially the most populous province) and the richest region of China with the largest GDP, known mainly because of its traditional craft products. Among the most important products are keys, knives, flashlights, umbrellas, leather goods, embroidery and carved mahogany furniture.