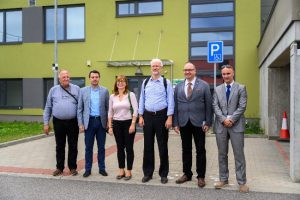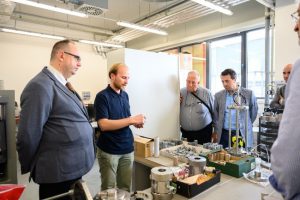 On September 16, 2019, the AdMaS Research Center welcomed members of the Bosnian delegation who visited the Czech Republic as part of their study trip. An excursion mapping the activities of the center in the field of urban engineering with an emphasis on water management infrastructure and geotechnics was prepared in cooperation with GEOtest, a.s.
This company from Brno is currently implementing a project of the Ministry of Industry and Trade of the Czech Republic "Assistance in establishing a technology center for innovation" within the Aid for Trade program of the Czech Republic's official development cooperation with Bosnia and Herzegovina. The aim of the project is to transfer Czech know-how in the field of establishment and operation of technology parks and innovation centers.
In September this year, one of the project activities included a visit to individual technology parks and innovation centers in the Czech Republic, including the AdMaS research center. Among other things, there was an exchange of interesting contacts and discussion of hot topics with the Dean of the Faculty of Mechanical Engineering of the University of Zenica, the Prime Minister of the Canton of Zenicko-Doboj, the Director of the TRA Agency for Tešanj Municipality Development and other delegation participants.