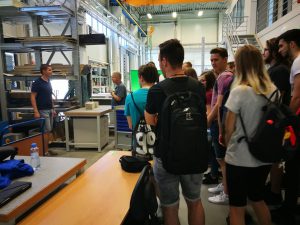 On Wednesday, June 5th, 2019, an excursion from the Secondary School of Civil Engineering in Brno took place in the AdMaS Center.
The center was visited by over 70 third-year students with a pedagogical accompaniment and went through both Laboratories of Road Testing  at P1 building and then through Laboratory of Geotechnics and Laboratory of Geodesy at P4 building.
Due to an excellent interpretation of the AdMaS staff, visitors were well introduced to the ongoing experiments, techniques and equipment of the center.