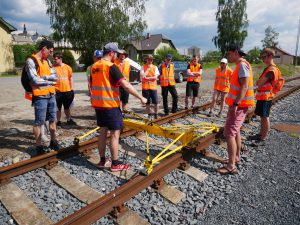 On the 28.5. – 5.6.2019, the traditional Field Training has been held in Staré Město pod Sněžníkem, which is intended for all students of the 3rd year of the bachelor's degree in the field of Constructions and Traffic Structures.
Teaching is organized by the Institute of Railway Structures and Constructions in cooperation with the Institute of Roads and with the assistance of other institutes of the Faculty of Civil Engineering at Brno University of Technology. Also some researchers from the AdMaS Center participated in the lessons.
In the course of the training, the center equipment was used – the KRAB, measuring trolley, which is used to measure the geometrical parameters of the track (eg track gauge, elevation, mixture and track height). The students also took part in an excursion to the Dlouhé Stráně pumped-storage hydroelectric power station where diagnostics of the tank shell condition was underway. Prof. Kudrna was able to acquaint students with the details regarding the construction of the tank shell and the asphalt mixes used here.