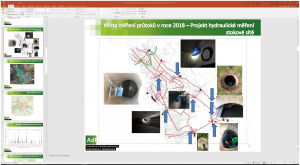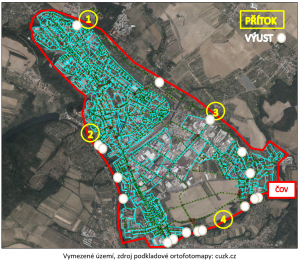 Staff of the EGAR Research Group from AdMaS Center, led by doc. Ing. Jaroslav Raclavský, Ph.D., carried out a hydraulic assessment of the sewerage network of the city of Znojmo this year in the area of contract research for the WATERWARE STOCK COMPANY, a.s. In 2018, measurements of selected hydraulic parameters (pict. 1) were performed on the sewer network and this year the hydraulic model of the sewer network was created (pict. 2). The model was calibrated and verified according to the measured values and technical measures were proposed to improve the operation of the sewer network in Znojmo.
Basic information about the sewer network:
• there is a single sewer system in the city. The waste water is treated at the WWTP Znojmo-Dobšice. Sewer construction began around 1905;
• length of sewers in Znojmo – 130 km;
• 11 municipalities are currently connected to the WWTP Znojmo-Dobšice.