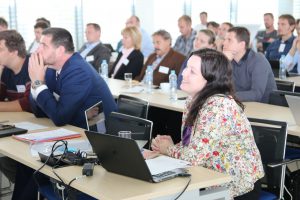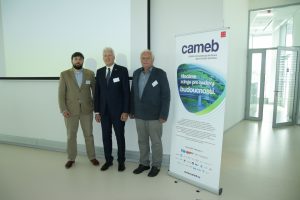 On October 1, 2019, the General Meeting of NCC CAMEB was held at the CTU in Prague.
The meeting was opened by the Chairman of the Board, Assoc. prof. Ing. Lukáš Ferkl, Ph.D., who welcomed the present and the chairman of TA CR, prof. Ing. Petr Konvalinka, CSc., FEng.
Representative of individual projects presented the state of solution and then prof. Konvalinka took the floor. He informed about the TA CR plans for the continuation of the NCC II program, which will be announced in May 2020 and should last for 6 years. Companies will be supported as in other TA CR projects, funding is expected to be 80%.
The General Meeting agreed on the preparation of the project for the NCK II call, including the involvement of the Faculty of Civil Engineering of the Technical University of Ostrava, which expressed interest to cooperate.
The preparation of the application for the extension of the existing NCC for another two years was also approved.
The plan also includes an informal external meeting of Council members, deputy members and representatives of subprojects for the horizontal integration of research topics and investigators in the month of February, 2020.