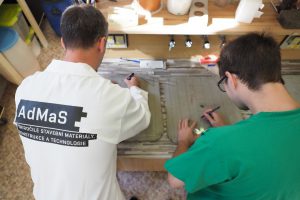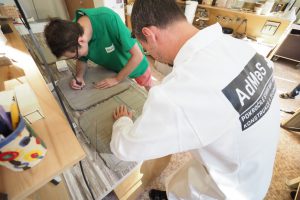 On September 4, 2019, within the ongoing cooperation of the AdMaS Center with CIDEM Hranice, a.s. test specimens of cement-bonded particleboards were prepared and subsequently tested with respect to the assessment of physical-mechanical parameters (bulk density, strength characteristics and flexural modulus), microstructure and combustion heat analysis.
The bodies were manufactured in laboratory. Significantly modified formulas were used for the production of plates, with a view to achieving lower bulk density and improving fire resistance while maintaining minimum standard requirements for utility properties.
Modification of the composition of cement-bonded particleboards was carried out by substitution of primary components (up to 50%) with alternative raw materials (heating slag, waste perlite and dust formed as a by-product during the processing of cement-bonded particleboards).