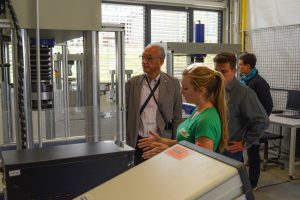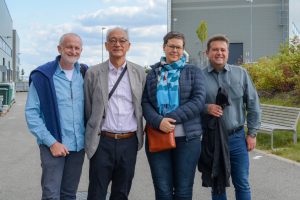 The research group Mathematical Modeling succesfully cooperated with the Institute of Geonics AS CR, specifically with Dr. Leona Vavro and Dr. Martin Vavro, and on 19 September 2019 welcomed an important expert in the field of rock fracture testing, prof. Yuzo Obaru, from Japanese Kumamoto University.
It was on the day of the 120th anniversary of BUT that prof. Obara presented a lecture in the STM Institute and then visited the AdMaS Center in the afternoon. In the lecture "Crack Front Geometry and Stress Intensity Factor of Semi-Circular Bend Specimens with Straight Through and Cracked Chevron Notches" he presented his team's current results in experiments as well as numerical analysis of the influence of voltage initiator concentrator on stress intensity factor .
By the way, prof. Y. Obara used to be a Director of GeoX CT Center and a Vice-Dean of Faculty of Engineering of Kumamoto University, which also celebrated  120th anniversary of its founding in year 2017. The visit organized Prof. Zbyněk Keršner, Assoc. Stanislav Seitl and Dr. Hana Šimonová.
The picture from the AdMaS area depicts prof. Z. Keršner, prof. Obaru, Dr. L. Vavro and Dr. M. Vavro. Ing. Lucia Osuska from the research group Technology of Building Materials in an eye-catching presentation of the center's research.