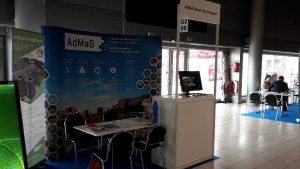 As part of its Smart City activities, the AdMaS Center presented itself as one of the exhibitors at the Urbis Smart City Fair (part of the traditional construction fairs in Brno) on 25-26 April 2018. Researchers from EGAR RG presented the activities of the center at a stand, where mathematical evacuation models of high density populations or 3D simulation passes of selected locations acquired by the mobile mapping system took an active role. Also, doc. Tomas Apeltauer presented this theme actively on the accompanying conference program.
In the area of Smart City, the AdMaS Center offers studies of the application of technology in various areas of city and community activities – environment, transport, energy, as well as specific urban engineering suggestions, such as heat exchangers that use the sewage potential as a source network to model traffic intensity.
We would like to thank all of you for attending a stand, among others to representatives of towns and municipalities interested in new technologies and technology companies, as well as students, or representatives of the French embassy.