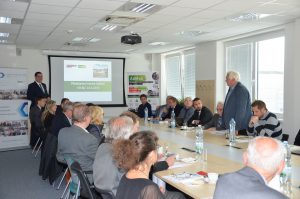 On Tuesday, May 14, 2019, with the participation of the Dean of FCE, prof. Ing. Miroslav Bajer, CSc., was held the premises of the AdMaS Research Center the 11th session of the Scientific Board of BIC Brno. The Chairman of the Technology Agency of the Czech Republic, prof. Ing. Petr Konvalinka, CSc.,  discussed with the members  the news in the support of applied research.
At the beginning of the event, Zdeněk Dufek, Director of the AdMaS Research Center, presented the Center's research programs to the participants. Currently, the up to date topic is projects focusing on the so-called circular economy, where construction waste is transformed into other raw materials by various forms and is then reused.
The meeting continued with the presentation of  RNDr. Petr Pracna, CSc., from the Technology Center of the Academy of Sciences of the Czech Republic, who introduced the construction opportunities in the HORIZONT 2020 program. Then  Ing. Karel Kouřil, Ph.D., Member of the Research, Development and Innovation Council, spoke on the Innovation Strategy of the Czech Republic in 2019-2030.
At the end of the board, guests visited the center's premises and laboratories.