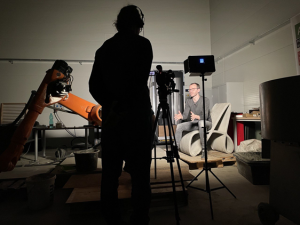 On Monday, May 3, 2021, Czech Television filmed a robotic 3D printing of concrete in the construction 3D printing laboratory (3DCP)  in connection with the forthcoming Czech Television documentary with the working title "Wanderings in the Czech Future".
An interesting feature of this laboratory is the used printing mixture, which is filled with recycled material from the construction industry.
Along with 3DCP team, 3Deposition, ERC-TECH and Master Builders Solutions also took part in the implementation of 3D printing and interviews.