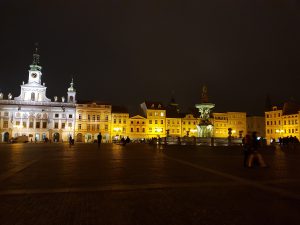 On 23 – 24 October 2019, a Road Conference was held at the Exhibition Center in České Budějovice, which was this year attended by a record number of 1208 delegates .
At the exhibition stand, the Director of the AdMaS Center, dr. Zdenek Dufek, prof. Jan Kudrna, Ing. Petra Okřinová and Ing. Tomáš Efenberk  represented the research and activities of the AdMaS Center and FCE as a whole  and made contacts for possible future cooperation.
In the professional section, professor Kudrna presented an article on the topic "Innovation of Classification of Variable Parameters of Road Surface" on which h worked along with Dr. Jan Podrouzek, Ing. Karel Spies and Ing. Květoslav Urbanec from Consultest company.